JOIN ME
Latest From Cameen's World
Cameen
receives artist of the week on NAPRADIO for the new single " TOP SHELF "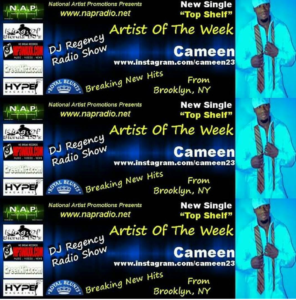 Cameen
in Atlanta at IBNX Radio with MzPoision Ivy and Dj Phan2c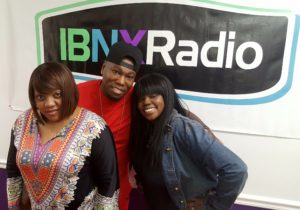 Cameen
in Atlanta at 106Live Radio Station with host/DJ Ezzy B, Storm & Simone Edwards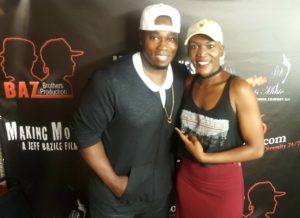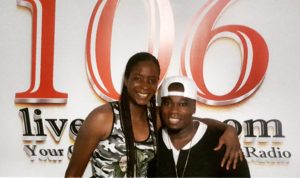 Cameen
in Atlanta the @DRSATL1 Studio with D12's Bizarre

Cameen
in the studio at the SAE Institute Of Atlanta

Cameen
At The Charles J Beard II Media Center & Touch TV/Touch 106.1 FM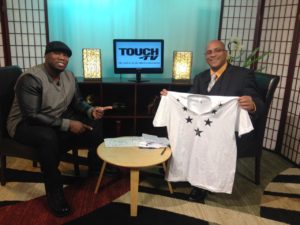 Genuine Gentlemen's pre-photo shoot attire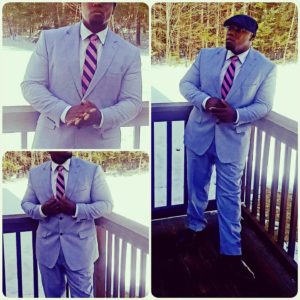 J Fashion & Apparel photo shoot. Day 2.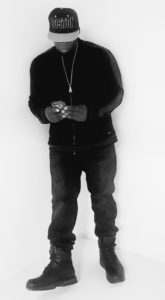 2017
Cameen taping on the set of the American Builder TV Series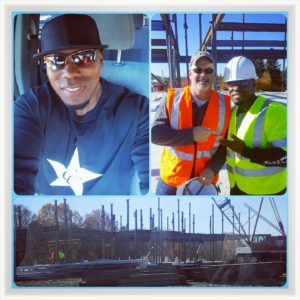 2017
Cameen's Single "Honey" featured on iCreate radio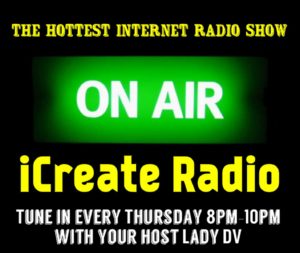 2017
Cameen
J Fashion  & Apparel photo shoot. Day 1.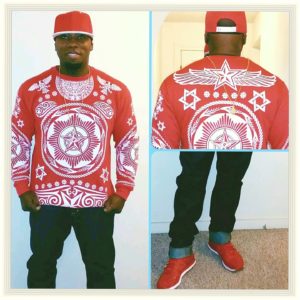 2017
Day one video shoot for  the single
"LEARN ME" (IF)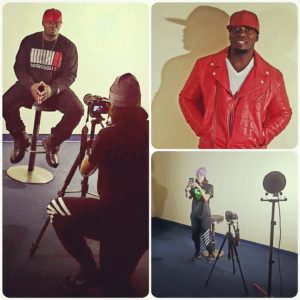 2016
Cameen meeting with Brian Gurry of The American Builder TV series
TUFFTV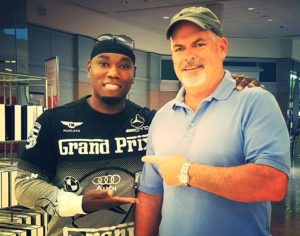 2016
Cameen 
Appears at 18th Street Lounge in DC to promote the singles
" FRIDAY'S " & " FAKE "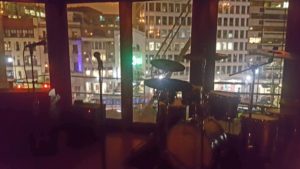 2016
Cameen
  " The Count Down" single featured in
                    HipHopGlobe.com
http://hiphopglobe.com/cameen-the-count-down/
2016
Cameen visits Shriners of Tampa and has fun on the Florida beach all while on his promo tour for the single
" FRIDAY'S "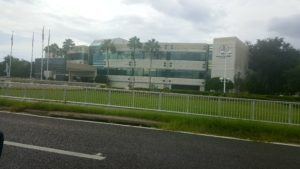 2016
Cameen prepares for his role in the video for
"UNTIL I DIE" BY Alternative Hip-Hop Artist and Videographer  AO
https://www.youtube.com/watch?v=GcF0-7XbGaA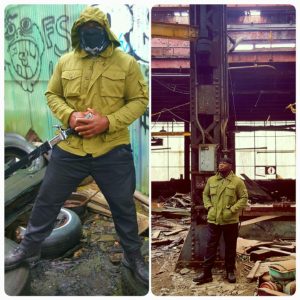 2016
Cameen relaxes while exploring his flying capabilities with friends at Pease International Base
2016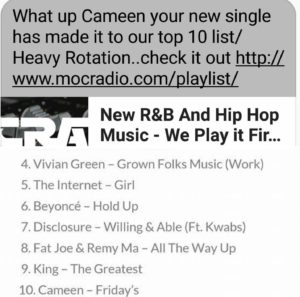 2016
Cameen
Single FRIDAY'S
Receives a 5 out of 5 star review from Anthony Tucker Writer for Los Angeles' TrendCity Radio Show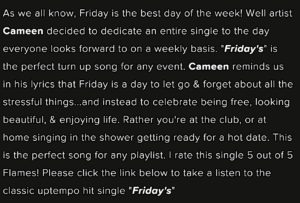 2016
Cameen
Makes an appearance at Vista Lounge  Mohegan Sun, CT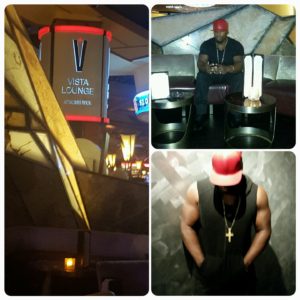 2016
Cameen
Featured in Thisis50.com
2016
Cameen
featured in five new magazines!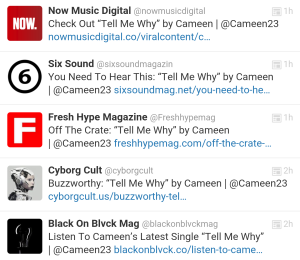 2016
Cameen 
Featured in Artist Rack Magazine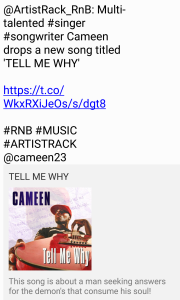 2016
Cameen
Supporting a charity Cancer event in his community as the Kung-Fu Panda!
"Make it fun for everyone"-Cameen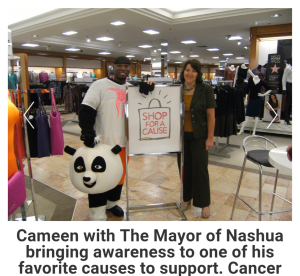 2016
Cameen
Featured in Hip Hop News 24/7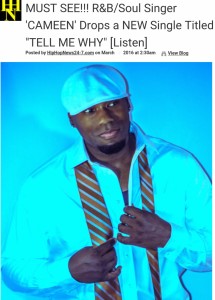 2016
Cameen
Featured in Supa Stars Magazine
2016
Cameen
Featured in MOC Radios top 5 Playlist
2016
Artist: Cameen
Title: "Tell Me Why"
Rating: 4 (out of 5 stars)
Review by: Charles Sweet
It's amazing how the trajectory of life can change in an instant. Cameen had every intention to play soccer in university but a near devastating injury altered his course forever and it drove him to move on to other ventures before eventually returning to his first love: music. In doing this, he's been able to accomplish a lot within a short amount of time and his growth is absolutely abundant in the music he creates.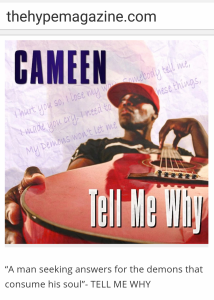 The state of modern R&B is one in considerable flux; rappers want to sing and singers want to rap and neither really capture the essence of what the genre is supposed to be about. Cameen is one artist who, from the sound of "Tell Me Why", doesn't have those problems. I believe that to be true because the singer's ability is authentic, and he seems to almost literally pour himself into the music in a real, tangible way. The mid-tempo cut opens up with strong keyboard chords and a thumping drum track.
The first verse sets the stage—one where Cameen reflects on the wrongs he's done and the choices he wishes he could take back—and the story develops at a quick pace. What I find myself enjoying most about this song is how visual the songwriting is: lyrics such as "tempted by the sweet nectar, of a poison fruit" make it easy for the listener to get inside the mind of Cameen and empathize with him during the situation. The song is measured and spirit-lifting in nature, radiating warmth through Cameen's rich harmonies and crafty programming of the instrumental.
Overall, "Tell Me Why" is a quality song and no less than I expect from a New England Music Awards Top Five Artist of the Year nominee. The song is lofty, airy and one that is certain to stand the test of time. Cameen is a progressive and talented singer and I for one am looking forward to seeing more of his success.
2016
HNS Radio accepts "Tell Me Why" for radio promotion
2016
Cameen
-Visits a local middle school to support two prominent student athletes Nathan and Caden for their championship wrestling matches.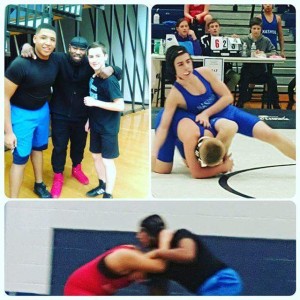 2016
Cameen featured in The Hype Magazine
New  single "TELL ME WHY"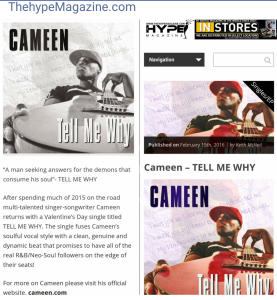 2016
Cameen featured in  Skilly Magazine
"When you're hungry and think there's an opportunity to increase your position, you sometimes move too fast not thinking that the other party has zero interest in you or your product except to get their hands on your money." 
http://skillyonline.com/cameen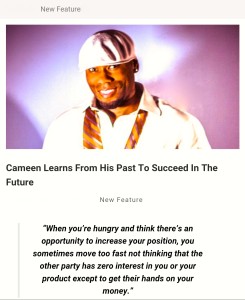 2016
Cameen's single "The Count Down" is streaming on China's hottest FM radio and social channels.
新年时刻小编为你献上一首倒数歌,和朋友一起倒数纪念你们一起度过的新年时刻吧!这首歌是由R&B歌手Cameen献上的歌曲《The Count Down》。   
 http://www.kanjian.com/song/151900/
 http://huaban.com/pins/572570739/
 http://www.ximalaya.com/#/10289999/sound/11213243
 http://www.lizhi.fm/199394/2508956539960668678
 http://p.t.qq.com/longweibo/index.php?lid=18412103883907532339
 http://weibo.com/p/1001603926160265368476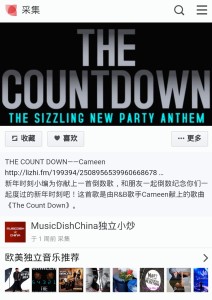 2016
Cameen featured on Poze Radio
PozeRadio.com
https://T.co/TloV5Pl8Te/sKW31
2015
Cameen
Featured and Sponsored in  RBL Magazine
( Rude Boy Lifestyle Magazine/Rude Boy Clothing Company)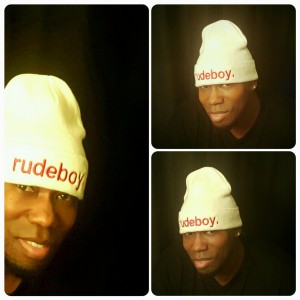 On November 4th Cameen surprised all of his fans with his final single of the year titled Delusional – I'm A Star. The song release wasn't the treat, it was the blending of varying styles that reflected an exciting and energy driven Pop/Rock/Hip-Hop track. The track is sure to be a suitable addition to his music collection.
http://rudeboymag.com/cameen 
RBL Magazine 
Rude Boy Lifestyle Magazine
Rude Boy Clothing Company
2015
Cameen
36 hours of  "Music Cares"  Charity event from Boston to NJ, NY and Philly!
"Music has no boundaries when caring and sharing are involved"-Cameen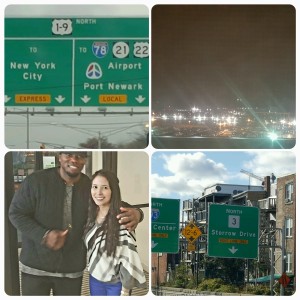 2015
Cameen prepares to hand out turkeys and dinners
"Volunteering shouldn't be a chore"-CKC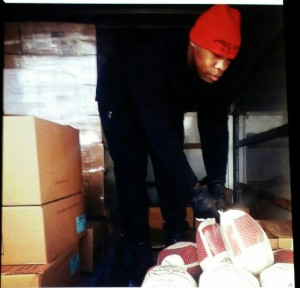 2015
Cameen  preparing for his Live Interview on
The NTunded Radio Show with
(MissP & Nikki G NYC)
2015
Cameen @ PhotoShoot For  Music Note TV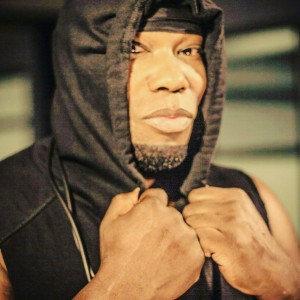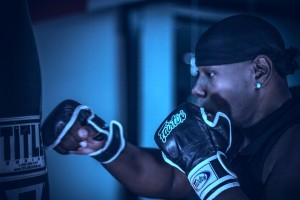 2015
Cameen
Having fun at the "Wild Zebra Night Club" in Rhode Island while promoting his two summer singles
"The Count Down" and " Can't Get Enough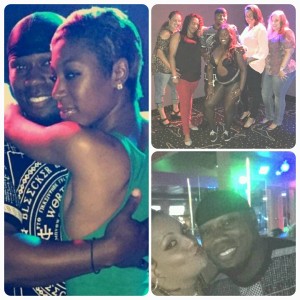 2015
Cameen's music featured on " Joint One Radio" Tokyo's legendary mix show.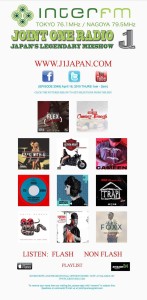 2015
Cameen
Volunteers at the Tolles Street Mission's annual community block party!!!!
A great day of fun in the sun…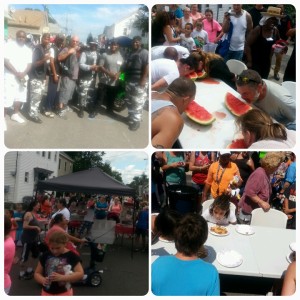 2015
Cameen
"featured Artist of the month"
JamSphere Magazine
http://jamsphere.com/news/cameen-has-released-his-smashing-brand-new-single-cant-get-enough
2015
Sound Look Magazine:    Features Cameen and reviews his single "Can't Get Enough"
"Whether it's a bit of neo-soul, hip-hop or infused soul-pop, Cameen's voice is so soothing and melodic,
you can't help but to get caught up in his rapture…until you "Can't Get Enough"
Jeena Johnson
SoundLooks Magazine
2015
Cameen receives New Artist of the month airplay on
104.7 Kiss Fm
"Can't Get Enough"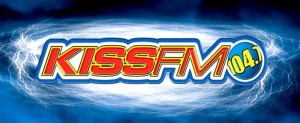 2105
Cameen Sponsors a local Youth Basketball Tournament in his community!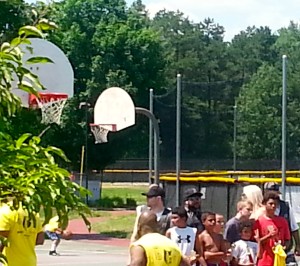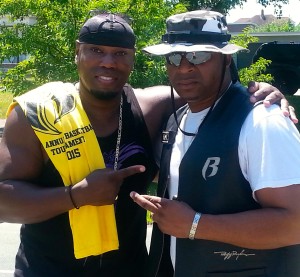 Cameen preparing to depart from the great city of Atlanta  (The smile says it all)
A great event!
Core 24 Atlanta/Core Dj Conference
2015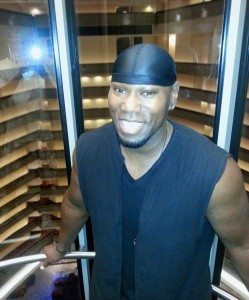 Hours before leaving Atlanta…..
Cameen jumps in the studio with producer/engineer Waheed
@ Dammahum Recording Studio (Buckhead Atl)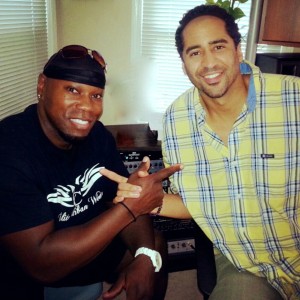 Cameen participating in the Core Cares Event
( Feeding the Homeless downtown Atlanta)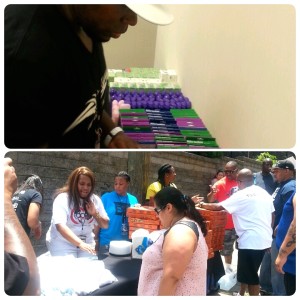 Cameen  &  Peaches
The Core DJ's Model & Head Coach. 
Cameen building with Artist Nezzle from Indianapolis
Core DJ Conference
Cameen @ Recording Artist B.O.B & his Label No Genre's Panel set and showcase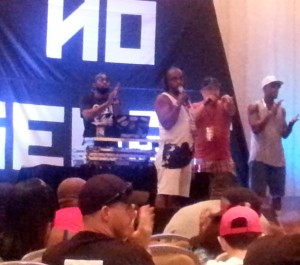 Cameen @ The Coast To Coast Showcase/Seminar
Core DJ Conference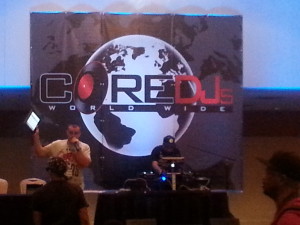 Cameen interviews' with Darryl Jackson
(The Unconventional Radio Show)
Core DJ Conference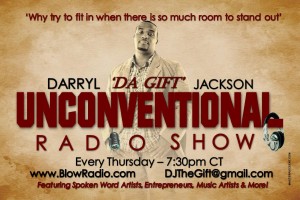 Cameen Building with DJ Vitamo of Atlanta and DJs DP & Kelly from Hot 105 Miami
Core DJ Conference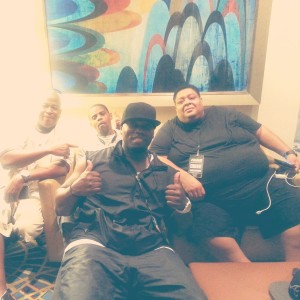 The Programmer's Panel Seminar
(Sway from Shade 45, MTV)
Core DJ Conference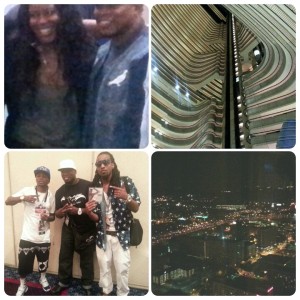 Cameen's Product Placement
(Core DJ Conference)ATL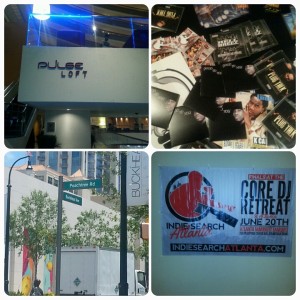 The view of the City of Atlanta from my 47th floor Room @ The Marriott Marquis
( Core DJ Conference)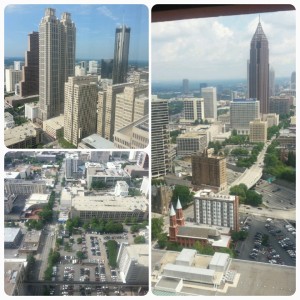 Cameen heading to Atlanta
Can't Get Enough/The Count Down Promo tour
(Core Dj Conference)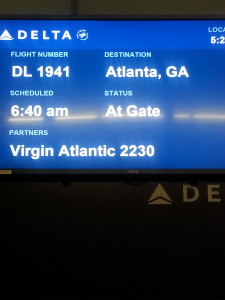 2015
Cameen
Will be appearing at the 2015 Annual Subaru Car Show
Promoting  "Can't Get Enough" the new summer single!
from  11-4pm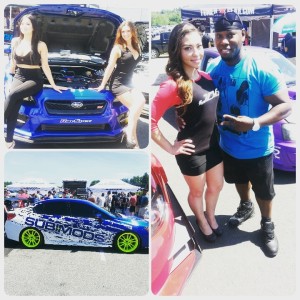 2015
Cameen
Spends the last part of his Brooklyn promotion campaign with some of his favorite people
The Seniors ( Fort Green)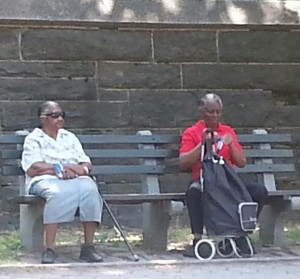 Cameen
Covering all of the Brooklyn bases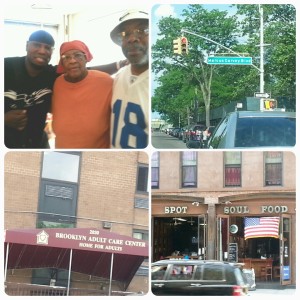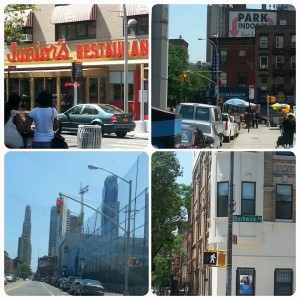 Cameen
At The VIP Record Release Party
The Farm Soho
447 Broadway NYC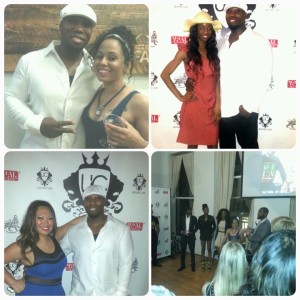 Everyone receives a Breast Cancer Awareness Shirt and Cd ( Manhattan NY)
Between west 46th-50th street
with Liz,Carmen and Hector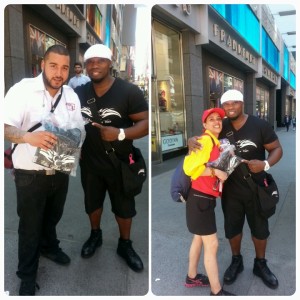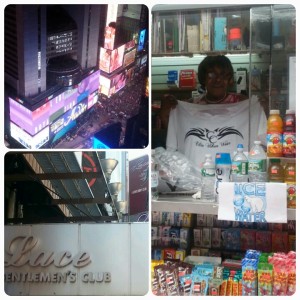 2015
Cameen
Heading to NYC to Start
The "Can't Get Enough" and "Breast Cancer"
promotion campaign
View from the Penthouse
In Times Square 7th ave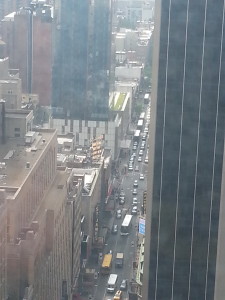 Cameen
Chops it up with Bob "Bassy" Brockman
@The Feature FM Business Music Seminar and takes in the sites
Times Square, NYC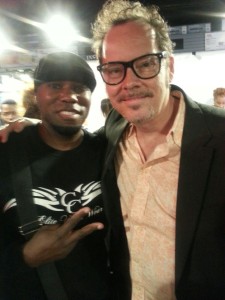 Cameen
Prepares for a meeting at Rivier University with the City Police to help support opening more communication between the officers and the community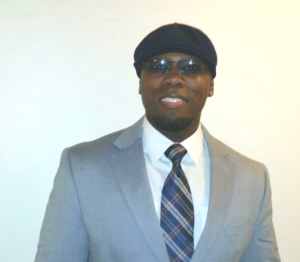 Cameen
"Can't Get Enough"  has been nominated Song of the Month by Strip Club Radio NYC
stripclubradio.com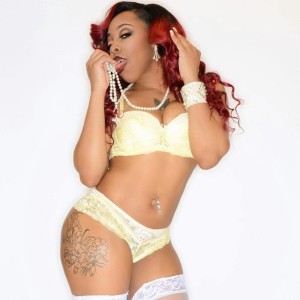 May 16th 2015
5:45 am
Cameen
Prepares more promotional items for the streets of Miami!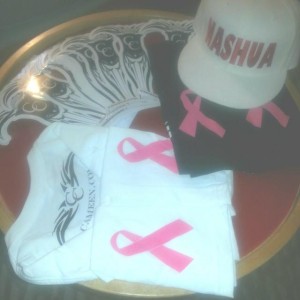 Cameen delivers a full promotional package to the winner of the
" How Well Do You Know Cameen's Music Event"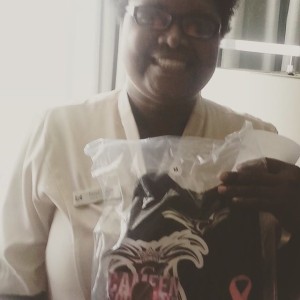 Cameen
Attends the Miami VIP Pool Party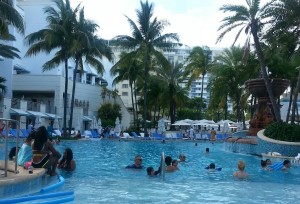 Cameen
At King Of Diamonds Gentlemen's Club for an A&R Meet and Greet event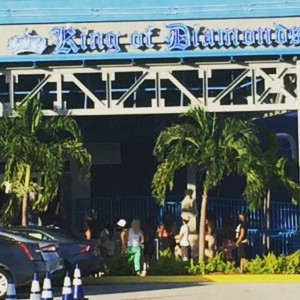 Cameen
At Tootsies Gentlemen's Club for a listening drop of his single "Can't Get enough"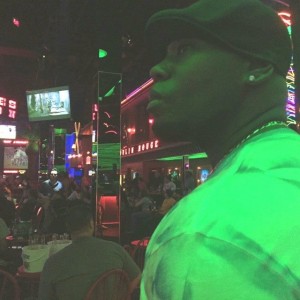 Cameen
Wraps the final day of the "Can't Get Enough" Miami promotional tour
@ The Clevelander
Ocean Drive
South Beach Miami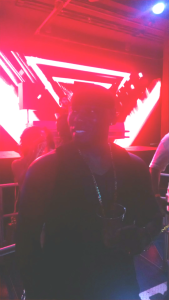 Cameen
Meets with Kris the Owner/CEO of  Miami Movement Magazine and sits for an interview!
Down town Miami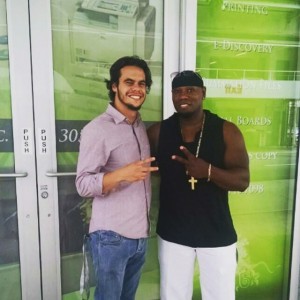 Cameen
Performs at Preston's Hemisphere Lounge
16th Street
Collins Ave
South Miami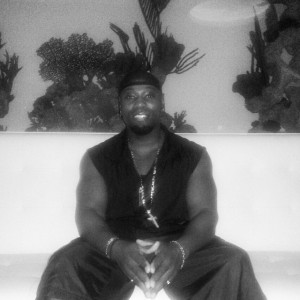 Cameen
At Logan Airport set to fly to South Beach Miami for
The "Can't Get Enough" single release promotional tour!
2:45 pm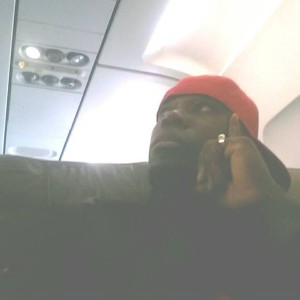 Cameen
Arrives at the Loews Hotel with his Porsche Panamera compliments of Luxuria Motor Sport Club Of Miami!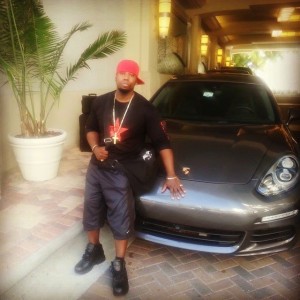 Cameen@ Loews Spa (exercise time)
16th Street
Collins Ave
South Miami Fla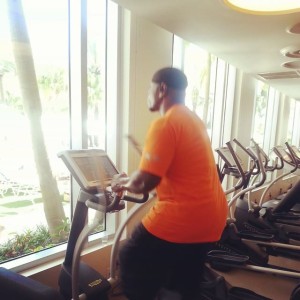 Cameen
Sits with WRGB's Radio Host & FIU's Dj The New Jackkid for their very first meeting and interview in Miami!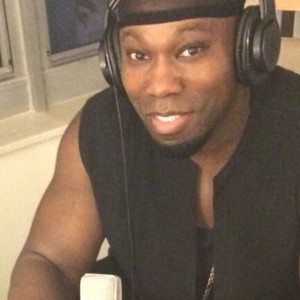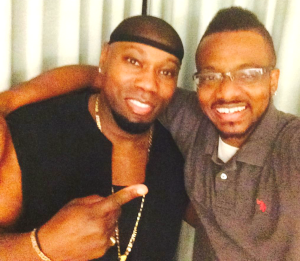 2015
Cameen stands in a group photo with some of his Fans/supporters while giving his fans/supporters!
"Have fun and laugh"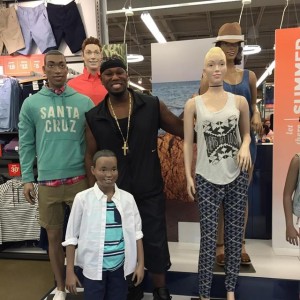 2015
Cameen
Bringing awareness  and participating  in " The Red Nose" Campaign for Poverty Stricken Kids everywhere.
May 21st 2015
8pm
NBC
2015
Cameen is suited up for his performance at
Garver PL
 Chelsea Ma
9pm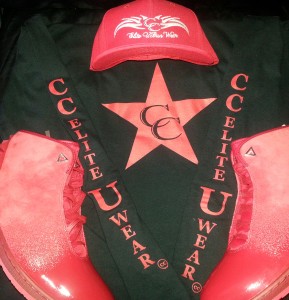 2015
2014
2014
2014
2013
2013
The Standard Production Showcase
District 3  2009 E Carson St Pittsburgh, Pa
2012
Cameen,
Your music has been selected for the NECN Morning Show Soundtrack Segment. Two of your songs ('The Formula' and 'Get It On') will be played Friday, July 15th. We would also like to provide viewers with a visual aid that represents you.  Thank you for your time.
Patrick Hart
NECN Production Assistant
2011 
Cameen is in the Artist spotlight
on 87.9 The Beat  Featuring the single:
" Get It On "
2011 
Guilty Pleasure
http://www.gavelbabble.net
This week's Guilty Pleasure goes to a hot, new artist named Cameen Copeland! A co-worker gave me this great CD a few days ago that I wanted to share with you! This New Hampshire based singer/songwriter has two lead singles "Get It On" and "Addicted" that are simply incredible which is why Cameen is this week's Guilty Pleasure! You won't be disappointed….
The Counselor
2011
Cameen is in the Artist Spotlight
on 87.9 The Beat Featuring the single:
" Addicted "
2011
Sunday, May 29th Memorial Day weekend
Cameen will be appearing/performing @ Club Irge
717 South Main St, Haverill, Ma
2011
Cameen-
Selected for the playlist on GRM 780 Radio the fastest growing radio show on the blogtalk radio format.
GRM 780 Radio is
hosted by Sultry Vixen.
Song: Addicted
2011
Thursday, May 5th 9pm
Cameen is a special guest performer along with Ilijah
@The Sky lounge of Nashua
2011
Metro Media Group, Inc.
This is Christopher Ewing, Host of "The Radio Cafe ReverbNation Indie Music Countdown". I'm writing you to say "Congratulations"! Your music has been chosen for airplay on "The Radio Cafe ReverbNation Indie Music Countdown"! I receive thousands and thousands of submissions for airplay from all over the world, and you were chosen from all of those submissions because I feel that you are one of the BEST independent artists out there right now. Way to go!
2011
Cameen-
Making Strides Against Breast Cancer of Dover, NH
Sunday, October 17, 2010
2011
UrbanPlusGeek Podcast – Artist Spotlight: Cameen
UrbanPlusGeek Podcast. Selected artists will receive great exposure through their tracks being aired for the podcast's listeners and the featured spot on the show.
2011
Howard Rosen Radio Promotion Selects two of Cameen's songs  for their playlist
Selected Songs: She's Got (Fire)  &  Addicted
 2011
The Real Radio Show selects two of Cameen's singles
Selected songs: I Appreciate  & Stop Call'n Me
2011
Premiere Booking Agency: Key Club and Cat Club Booking LA select Cameen to perform
2011
Indie Life Radio selects a single from Cameen for their playlist (Jul-Oct )
Selected song: She's Got (Fire)
2011
Cameen
appears @ 87.9 The Beat
Promoting the track(She's Got Fire)
with Dj K-low
2011
Cameen
appears @ Mojitos night club
21 Winter St
Boston, Ma
2010
Cameen-
Please Join me for the:
Making Strides Against Breast Cancer of Manchester
Sunday, October 17, 2010
Registration: 10;30-12:30 a.m.
Walk: 1:00 p.m.
Arms Park on Merrimack River
Manchester, NH
Length: 3 or 5 miles
2010
Cameen-
Please Join me for the International Chili Cook Off
@ Kids Zone.
Sat October 2nd 2010 at 2pm until….
Veteran's Park, Elm St Manchester, NH
It's a great benefit. So, come and have
a great time.
2010
Cameen-
Please Join me: The 5th Annual Walk to Break The Silence On Ovarian
Cancer
Sunday, September 26, 2010 at 9:00am
Nashua, NH Mines Falls Park ( Near Stellos Stadium)
Thank you!
2010
Cameen-
Please Join me: The Alzheimers Association 3 mile benefit walk
Saturday, September 25, 2010 at 8:30am
Fisher Cats Stadium Manchester NH
Everyone must be there by 8.30am. It beigins promptly at 10am.
Thank you!
2010
Cameen-
Please join me  September 12th
Charity Benefit For Jennifer Lawson (accident victim)
Michael's Pub
30-149 frost rd Tyngsboro Ma
4pm- until.
Donations are 10$ at the door
2010
Cameen
 performs @ Club Electra 66 Bening rd W. Lebanon NH
at 11.30
2010
July 22nd @ 11pm
Cameen will be performing
@Milly's Tavern
500 Commercial St.Manchester, NH
2010
July 27th @ 8pm
Cameen will be performing Live on
Scorch's PFG-TV
Ch.18,
11a Street, Derry NH
2010
August 7th
Cameen will be performing
@the African & Carribean celebration in Veterans Park
TBA.
Elm st Manchester,NH
2010
Cameen
performs @ the Ladies Lounge(the Hi Hat)-
Providence,RI
2010
Cameen Performs @ the Concord NH
High Benefit for the girls Step Team